Hello and welcome to your guide on navigating the brand new Clayton Glass website. Our website has been designed with both installers and homeowners in mind, with a primary focus on ease of use, and being the most informative fenestration-based website you'll find.
Here, we'll discuss all the features of the website one by one so that you can easily find everything you're looking for without wasting any time. Ok, first up…
THE TECHNICAL HUB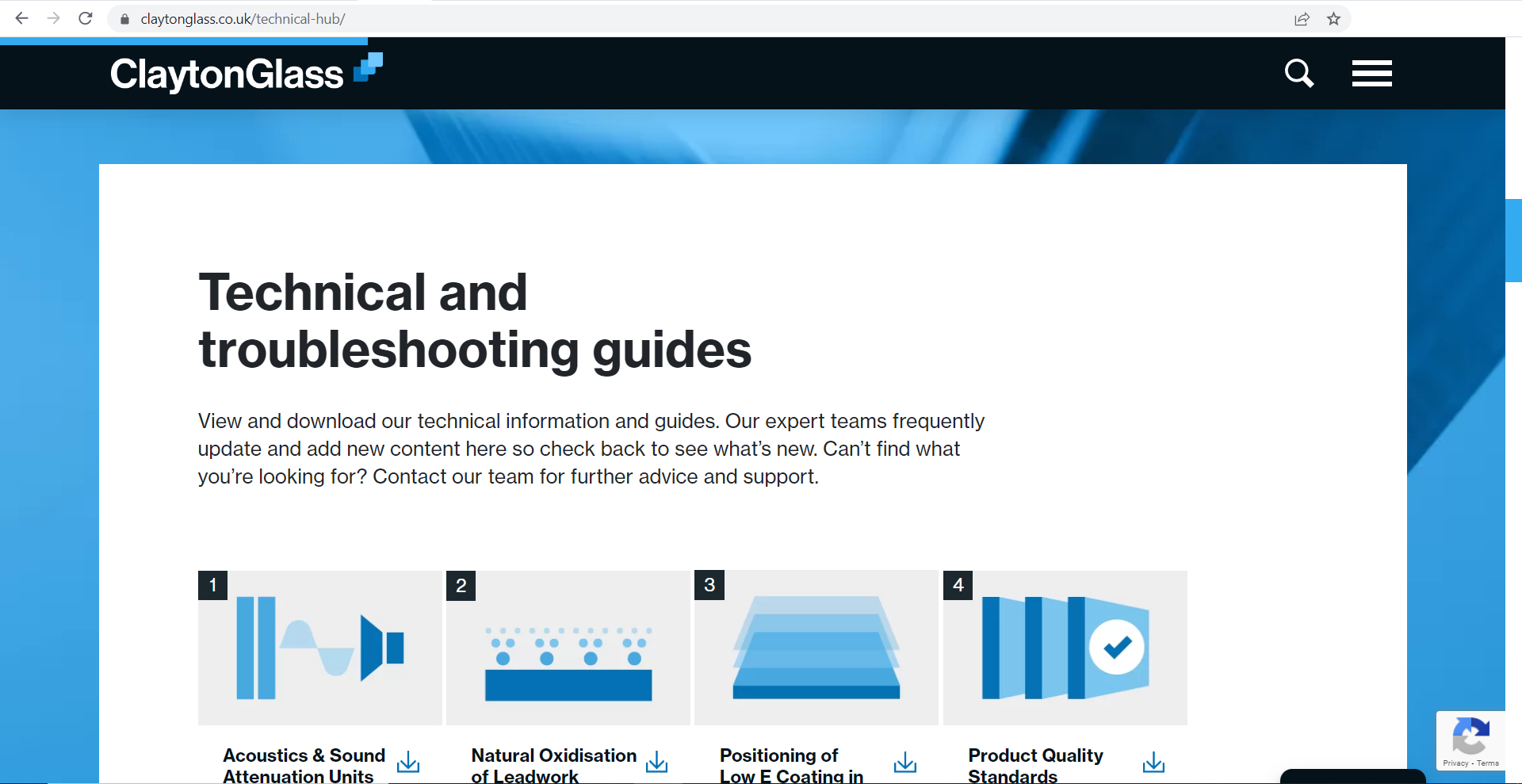 Find it HERE.
By clicking the hamburger icon in the top right corner of the screen (that's a fancy name for the 3 horizontal lines) and clicking "technical hub", you will be taken to Clayton's one-stop shop for all things technical, troubleshooting and glass education.
In the technical hub, you will find a number of documents and guides describing key elements and need-to-know facts about your glazing. Some topics you will find include: sound and acoustics, oxidisation and product quality standards, but there are loads more!
Also in there, you will find a glass glossary. This is a long list of frequently-used industry terminology in reference to aspects of glass and glazing. By brushing up on these, you'll not long be a glazing expert yourself.
This page is being continually updated so be sure to check back in the future.
OUR PRODUCTS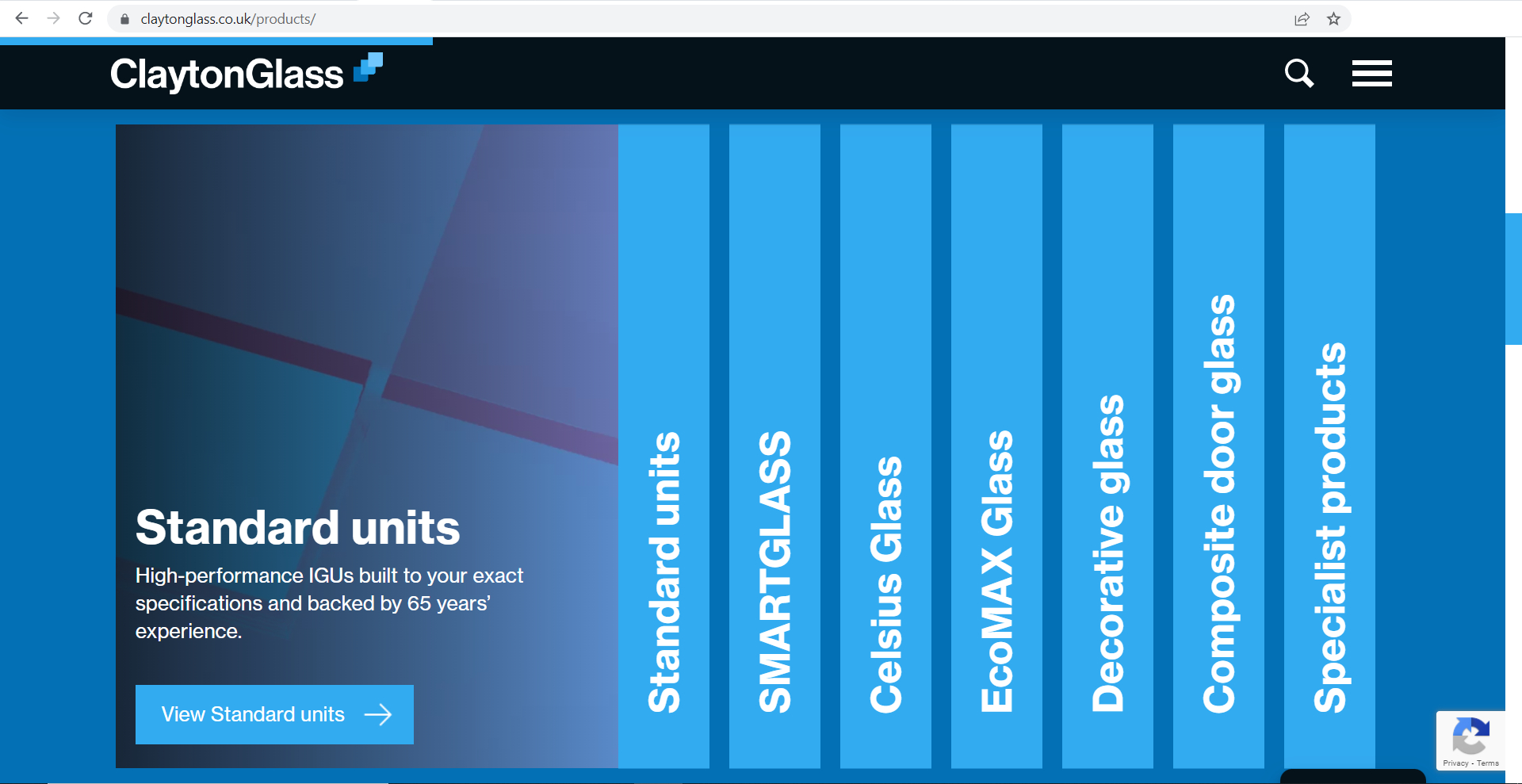 Find it HERE.
By once again clicking the hamburger icon (they all start like this) you can navigate your way to the "Our Products" page. Once here you will be greeted with an interactive menu of the Clayton Glass product range.
These options are (in order): Standard Units, SMARTGLASS (roofs), Celsius Glass (roofs), EcoMAX Glass (windows), Decorative Glass, Composite Door Glass and Specialist Products. Click on any to find out key information about each aspect of our product offering.
Also on this page, you will find information about how we source the raw materials to manufacture our products, as well as the experience and knowledge behind what goes into producing our insulating glass units.
GLAZING APPLICATIONS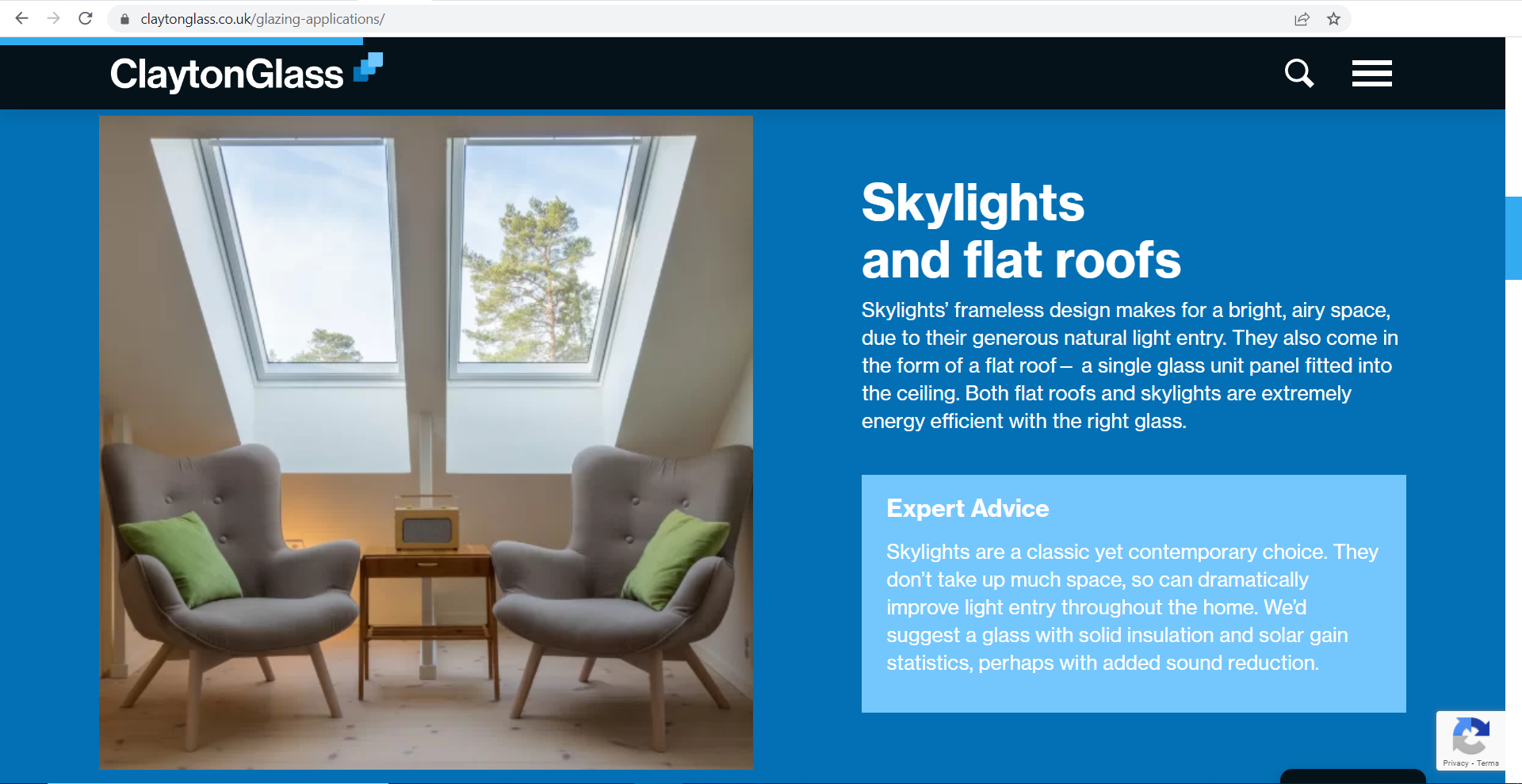 Find it HERE.
By navigating to "Glazing Applications", you will be taken to a page containing a whole host of different applications that Clayton Glass are capable of supplying glazing for.
The page contains information on: Conservatories, Skylights, Flat Roofs, Bifold Doors, Lantern Roofs, Windows, Composite doors, as well as just general decorative applications.
Each application has its own description, as well as a piece of expert advice from a member of the Clayton team on how to get the most out of each application performance-wise, i.e. which glass types to use, which statistics you may want to consider etc.
Also at the bottom of this page you will find a link to our latest brochure titled "Make the room with Clayton Glass". This brochure is a great place to start if you are looking for inspiration on potential glazing applications you could install yourself.
MEET THE TEAM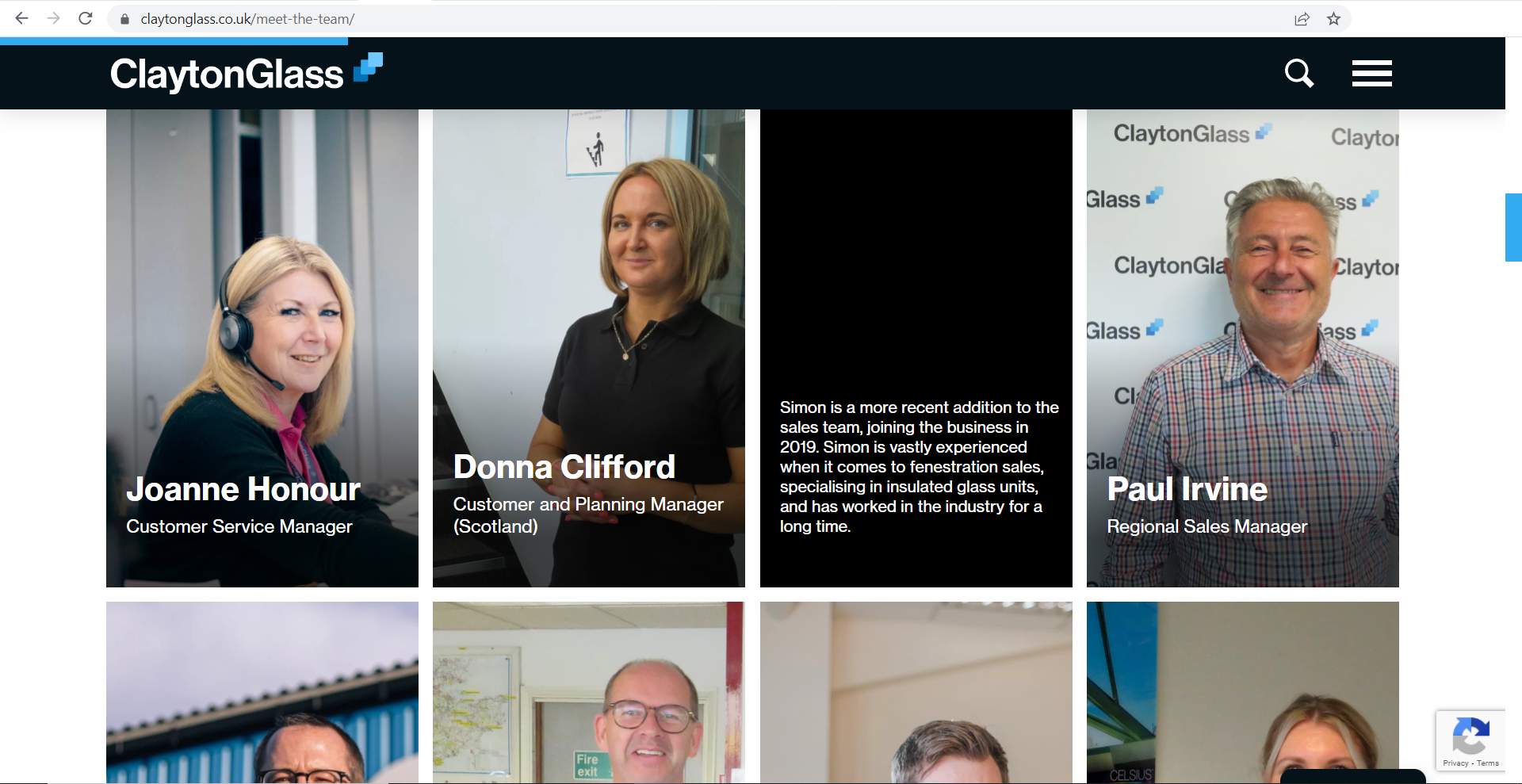 Find it HERE.
By navigating to the page labelled "Meet the Team", you will arrive at a comprehensive list of the key staff that make up our six sites in Canterbury, Huthwaite, North Shields, Blackburn, Scotland and Harelaw.
From the top down you will find the company Directors, the commercial team, the operations team, as well as some other key staff.
You can deduce any given staff members' email address by using 'firstname.lastname@claytonglass.co.uk', so if there's anyone you see on the page that you think can help you, please feel free to drop them an email.
On the page, each staff member has a bio explaining their experience in the industry, how long they've been with Clayton Glass, as well as the things they enjoy doing in their spare time.
THE CLAYTON DIFFERENCE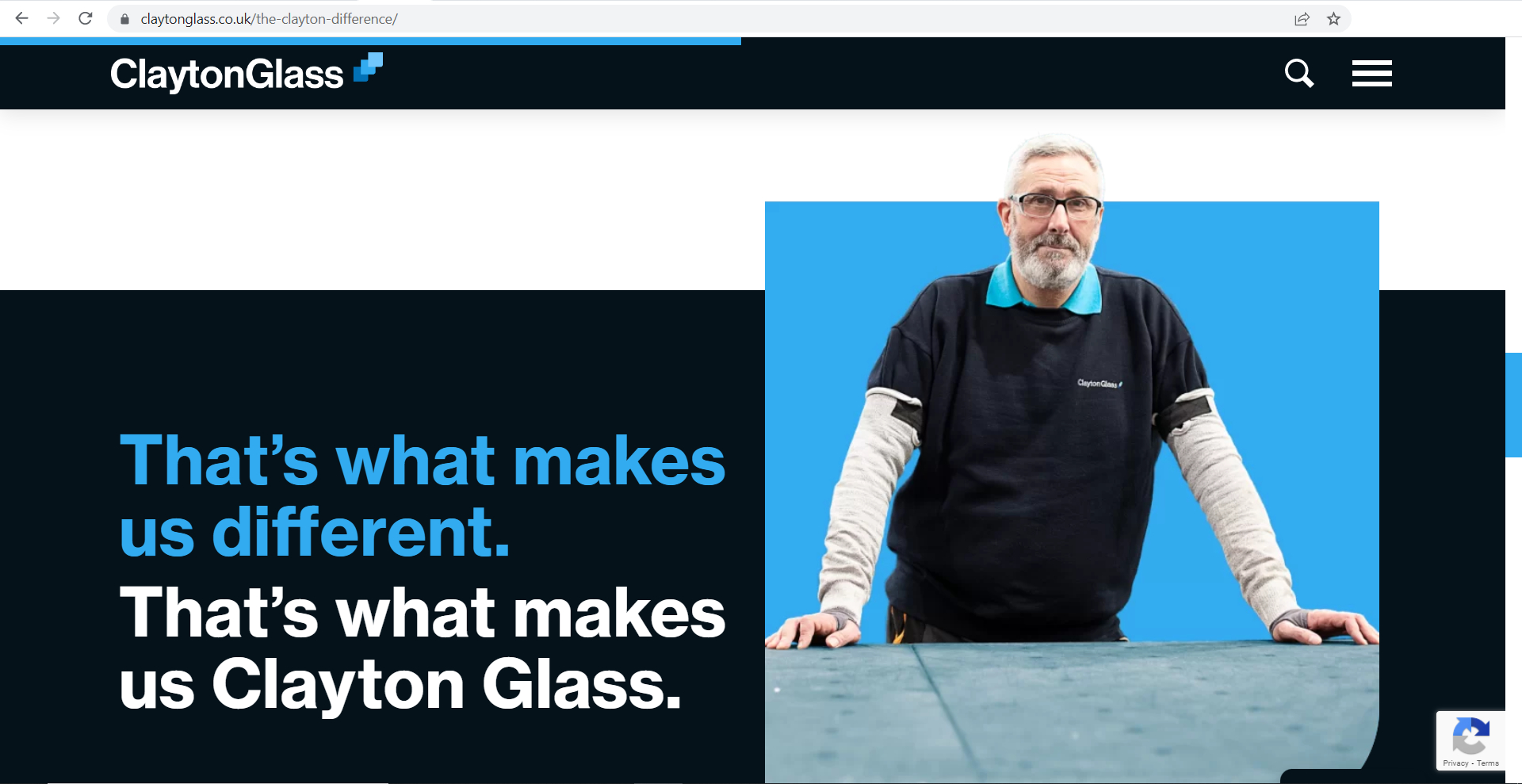 Find it HERE.
By navigating to the hamburger icon in the top right of your screen and clicking on the page titled "The Clayton Difference", you will arrive at the number 1 destination for finding out about Clayton's approach, attitudes and values.
On this page, you will learn about the Clayton Glass ethos; the idea that whilst we are one of the UK's largest manufacturers of insulating glass units, the thing we value above all else is our relationships with our customers, much like that of a small, family-run business – that is the Clayton difference.
On this page you will also find a link to our "About Us" page, containing statistics on our capabilities, staff numbers, a map of our sites and a chronological timeline of the growth of Clayton Glass.
CONTACT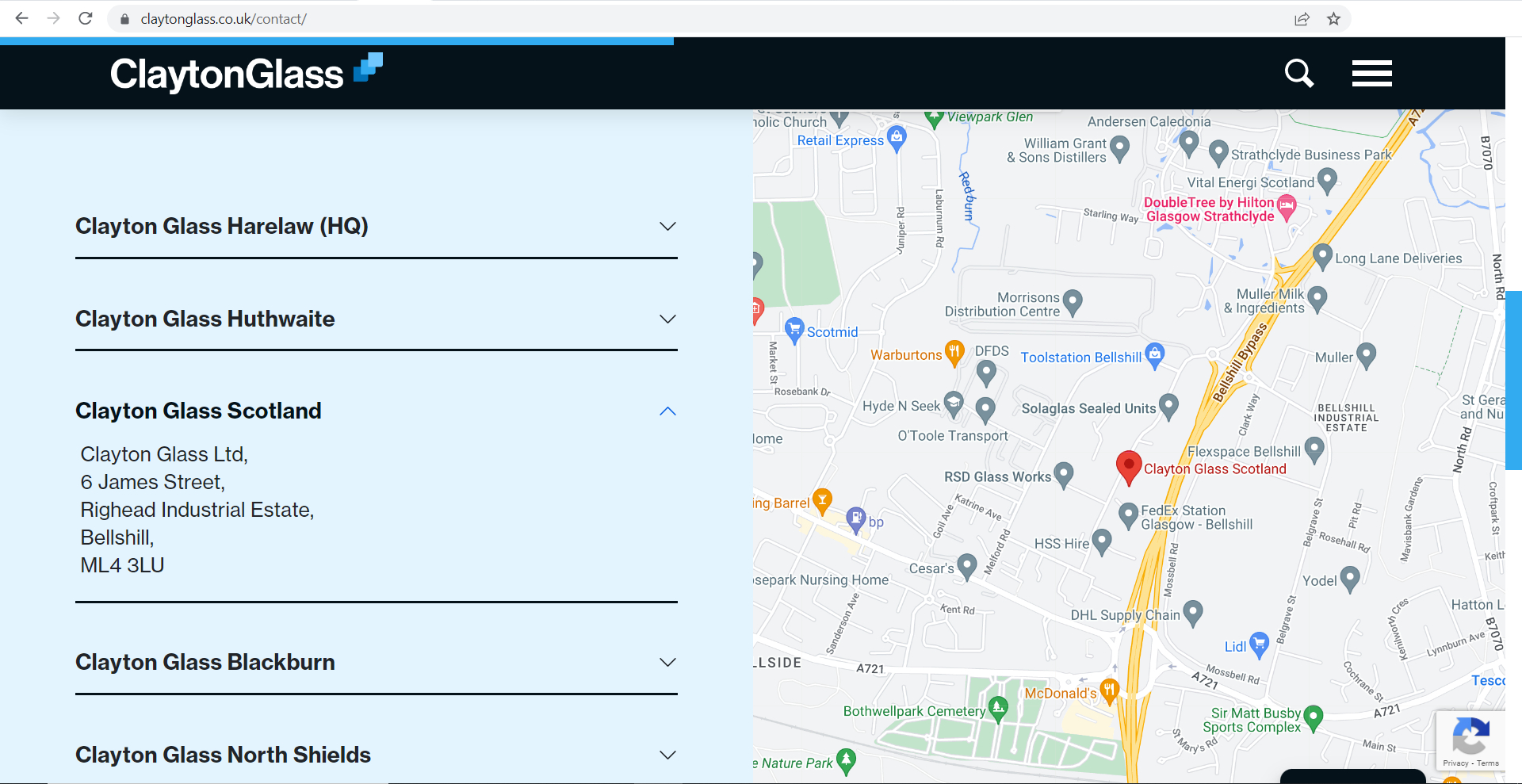 Find it HERE.
By clicking "Contact", you will find yourself on the website's contact page.
Here, you can send a direct message to the Clayton team via a contact form at the top of the page. You will also find full addresses of all six of the Clayton Glass manufacturing facilities across the UK, complete with Google maps precise locations.
Below this you will find an area titled "orders and enquiries". This area contains all the phone numbers and email addresses depending on your specific need at the time, all these email mailboxes are manned so please choose the email address you think is most relevant to your needs.
OTHER STUFF
We also have the Clayton News page, for keeping up with all the urgent news and following the Clayton Glass story, our "Media and Downloads" page containing a whole host of useful downloadable content such as brochures and company guides.
There's also our "Awards and Accreditations" page, detailing the many awards Clayton have picked up over the years, as well as the industry and supplier accreditations we have worked hard to achieve.
If you have any trouble at all navigating our website, or if you can't find something or have any suggestions about how we can improve it, please drop an email to themarketingteam@claytonglass.co.uk.