We are Launching a New Campaign to Improve Stillage Tracking
We're currently facing the worst stillage shortage Clayton Glass has ever endured. So, we are launching a new stillage tracking campaign that will see us retain a higher quantity of our stillages at any one time. The campaign will involve a new stillage-tracking app and late return charges as a last resort.
Here at Clayton Glass, we don't have nightmares about falling or being chased. We have them about stillage shortages. And unfortunately for us, no matter how hard we pinch ourselves, we don't seem to be waking up from this one.
Now, we have always prided ourselves on communicating with the utmost honesty, about anything and everything that we think you should know about. This is easy when the news is good, but trickier when the news is… trickier.
In the spirit of this, we feel we need to be transparent about the state of play when it comes to our stillages. And the situation is this: we are losing hundreds of stillages a month, and unfortunately, can't bring them in at a rate high enough to compensate for this.
Stillage shortages are nothing new to us here at Clayton Glass. Those of you that have been in glass for a while will know all about that dreaded email from the Dispatch Manager with the words "RE: Stillages" in the subject line. Suffice to say – It usually isn't good news.
The problem is this: we can't provide our best service without an adequate supply of stillages, and we can't get our stillages back without being upfront.
We are well aware of the difficulties those in our industry have faced during the pandemic, and are continuing to face when it comes to supply, demand and everything in between. The words "delayed", "cancelled" and "rescheduled" have been spoken frequently across the glass industry throughout the last 18 months. We therefore understand that undelivered products may be piling up and you need somewhere to keep them, we get it.
We therefore want to approach this campaign with understanding and concern. We won't incur charges where we don't think they are necessary, and we're not going to kick up a fuss about any stillage-related misdemeanours of the past. Instead, we have a solution…
The Stillage Tracking Campaign
Our solution to our stillage conundrum is something we've aptly named: "The Stillage Tracking Campaign".
The stillage tracking campaign will be split into two parts. The first part, is the development of an all-new, high-tech stillage-tracking app, letting us know the whereabouts of any given stillage at any given time, as well as how long it's been there. This will be launched in the next 2 weeks.
Part 2 is a late return charge that will only be put in place if a stillage has not been returned after 28 days of use, we think this is reasonable. The late return charges will ONLY be enforced as a LAST RESORT. Again, this isn't about money, it's about stillages.
---
Full details of app functionality:
All of our returnable frames are barcoded. At the point of offload these will be scanned in and out, and your team will be asked to verify the details at that point.
Once verified, a summary email will be sent to the same recipient of the delivery paperwork, this will show:
Stillage quantity and number dropped.
Stillage quantity and number collected.
Running total of stillages held, and for how long.
We will allow a period of 28 days for stillages to be returned, our reporting will show for periods: 0-20 days held as "OK", 20-28 days as "requiring action" and above 28 days as "late".
Stillages that are verified as delivered, but not returned after 28 days will be invoiced as follows: Timber – £120 each, Metal – £600 each. When payment is confirmed, the ownership of that stillage number will be transferred to you.
---
Rest assured, we've thought long and hard about how best to go about our stillage issue, and this is what we've come up with. We don't want to have to start charging for stillages, we really don't.
To avoid stillage charges therefore, Commercial Director Jason McCabe provides the following information: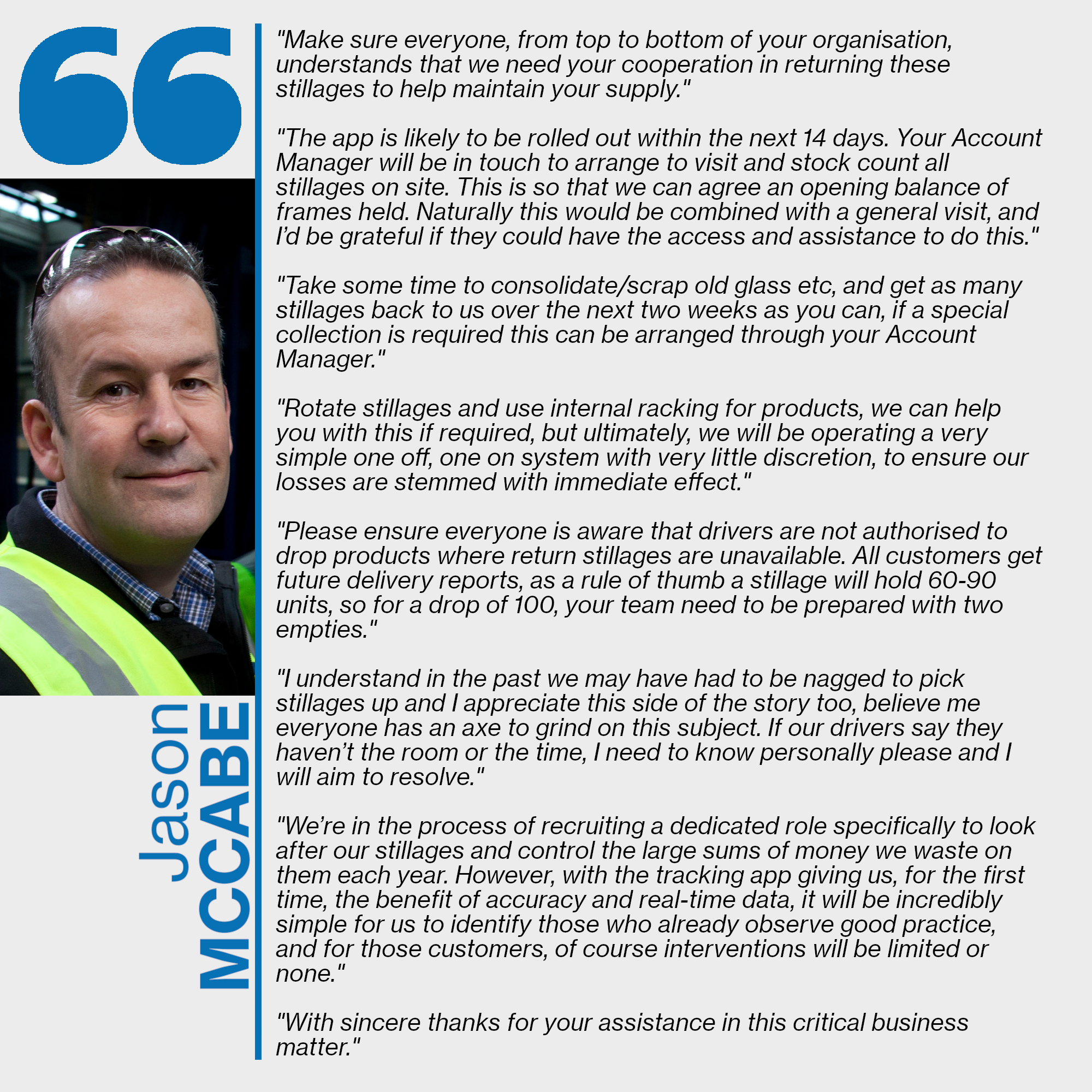 While this may seem like a big change, we will do everything in our power to make this transition flow as easily as possible, and in time, the benefits will be obvious for everyone. With our increased stillage counts, we'll be able to continue offering a high level of service, and more consistent lead times.
With this, comes stronger business-to-business relationships, and an all-round better Clayton Glass – something that you can help us create. Strong relationships are built on honesty, that's why we're telling you this.
As usual, if you have any questions, head to our contacts page to get in touch and we will answer your query as soon as possible.
Maybe one day, perhaps in the near future, we'll all be receiving emails from our various Dispatch Managers with the subject line "RE: Stillages" without that sense of existential dread that comes with it. Maybe one day that email will simply say: "Just to let you know, we have plenty of stillages". One day.
---
In Other News…
---