Why is Health and Safety Important in the Workplace?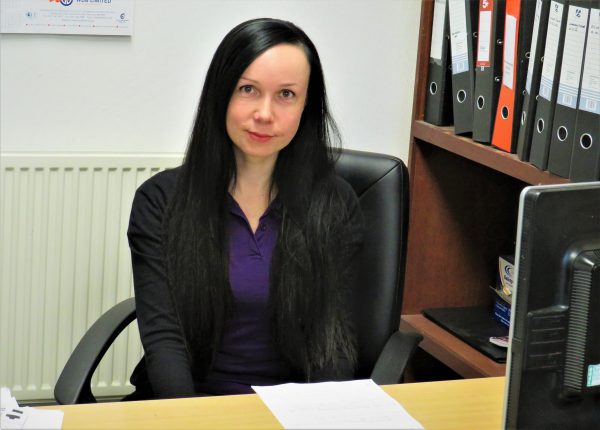 Magda Karon is Clayton Glass' highly-regarded Health and Safety Officer, and has been for the last 12 years. I sat down with Magda for an interview about all things health and safety. Plus: the importance of health and safety in the workplace, her exciting Clayton Glass journey, her favourite animals – and loads more…
Filling a role in a company can be like casting a part in a movie. Like casting a movie, properly staffing your company with individuals who fit their role down to the ground is a sure-fire way to create something powerful. Having individuals performing their roles with extreme, inimitable passion and dedication leads to something that is, simply, a notch above the rest. This description could be used to describe many people at Clayton Glass. However, it could describe no-one better than Health and Safety Officer – Magda Karon.
---
Health and Safety: A Calling
I have met many people who enjoy their line of work. However, Magda Karon goes beyond this. She sees her line of work as her true calling in life. The health and safety interview begins as I ask: "What inspired you to choose a career as a health and safety officer?". "This career chose me" states Magda. "You either love this job, or you hate it." Magda continues, "I am the one who loves it the most!" she says, smiling. Magda goes on to talk about how she achieved all the necessary qualifications. Then went on to  gain experience and began working full-time in health and safety. "With my knowledge and experience I can reduce injuries, reduce accidents and reduce problems, with health and safety in the workplace." says Magda.
---
Health and safety in the workplace ensures that everyone returns home to their families at the end of the day, alive and well
---
Magda tells me that the opportunity to potentially save lives everyday through the prevention of injuries and accidents is something that has always appealed to her. Magda wears a proud expression on her face as she tells me this. In contrast, her complexion becomes steelier when she mentions accident protocol. "I could be busy doing something, day-to-day activities. If an accident were to happen, I'd have to drop everything, and be on the scene as quickly as I can." She says.
---
Health and Safety Importance
I then ask Magda why she thinks health and safety is important in the workplace. "Health and safety is a lifestyle." She states simply. "Health and safety in the workplace ensures that everyone returns home to their families at the end of the day, alive and well." Says Magda. Magda goes on to tell me that every employee wants to work in a safe environment – an atmosphere, in which, they feel protected. "There's nothing worse than when you get that phone call that someone you love is in hospital because of some kind of accident." says Magda, a tinge of emotion in her voice.
---
Health and safety at clayton glass
Magda lights up at the question: "What important health and safety rules are there at Clayton Glass?". "Definitely the most important rule is that Clayton Glass has the moral responsibility to look after each employee and protect them from harm." says Magda. "They do this very well". Magda tells me that there are pages and pages of health and safety regulations. Regarding topics, such as: creating a safe working environment, looking after visitors, providing equipment and lots more. "These health and safety regulations begin with Ryan." says Magda, referring to the health and safety policy statement created by Clayton Glass' Managing Director, Ryan Green. "The commitments to this policy flow through every level of the company. Through the Managing Director, Health and Safety officer, every single employee." Magda tells me.
Clayton Glass, it would seem, have more need than most for a well-detailed health and safety statement. This is due to the fact that the company own and operate a £5m-invested factory churning out over 20,000 glass products a week. It seems as though the company perform well on the health and safety side of things. "Accidents are extremely rare." says Magda. "Cuts and scrapes are always a small risk when working with glass. But our health and safety rules and regulations prevent more serious accidents happening very often at all.".
---
It's the people that create Clayton Glass
---
A Take-Home Message
"Sometimes people complain about health and safety, I think that they think it's a bit over the top" continues Magda. "The truth is, health and safety is not there to punish anyone, that's not how we want people to feel" she says. "It's a little bit of a self-sacrifice sometimes I suppose, being the bad guy, imposing the rules" says Magda, "but I'm happy, because I know that everyone returns to their families every evening, unscathed.".
---
Clayton Glass
The conversation now turns to the company that Magda has worked at for 12 years – Clayton Glass. "What do you enjoy about working here, specifically?". I ask, intrigued. "I'm proud to work here" says Magda in response. "This company has a fantastic reputation. An excellent track record. Strong leadership" she continues. Magda goes on to tell me that her favourite thing about working at Clayton Glass is working with like-minded people. "It's the people that create Clayton Glass" Magda states, simply. "It's how professional they are, how dedicated they are, this gives me an extra buzz". Magda is positively beaming as she discusses her colleagues, an uncontainable smile etched on her face. "We are all engaged in achieving the same goals, we're one heck of a team." She says, proudly.
---
Changes at Clayton Glass
My next question to Magda is: "In the time that you have worked at Clayton Glass, how has the company changed?" Magda pauses for a moment and then simply says "the size". Magda tells me how, when she started, the company were operating out of a much smaller warehouse. As well as this, the company had much less staff, and lower budgets. "It's unbelievable how fast we've grown" says Magda, excitement in her voice "in 2019 the company is unrecognisable!".
Magda goes on to tell me that working in this constantly growing environment can be challenging. "It's pushed me to grow professionally, to achieve more" says Magda. "You could never accuse it of being boring" she continues, smiling. "I think this comes from the top" says Magda, referring to Clayton Glass' Directors Ryan Green and Jason McCabe's penchant for forward-thinking. "As soon as we achieve one big milestone, they already have their eyes on another one! We are constantly climbing up that ladder." says Magda.
---
A Light-Hearted End
The conversation now moves towards what Magda enjoys doing in her spare time. "My spare time is normally very active time" Magda tells me. "For me, I like going biking, running and trying new activities.". "I also enjoy spending time with friends and family" says Magda, smiling. "I also spend a lot of time with my dog, Dougie.".
---
Health and safety chose me, I did not choose it. Some people love it, some people hate it – I am the one who loves it the most.
---
Favourite Animals
The interview moves towards a light-hearted close, as I ask Magda the most obscure question I can think of: "If you could be any animal for a day, what animal would you be, and why?". "This is the hardest question so far!" says a laughing Magda. After a couple of minutes thinking time Magda says: "I would like to be a strong, powerful animal – I don't want to be eaten or killed!" She jokes. "I think I would choose, looks-wise, a Black Panther." says Magda. "They are strong, they move well, and the freedom of running around in the jungle would be fun!". On top of this she adds: "or I would be an Eagle, so I could fly.".
The health and safety interview ends there and I thank Magda for her time. In conclusion, Legendary film director, John Frankenheimer, once said: "Casting is 65% of directing.". Meaning, that if you cast the perfect individual for a role then everything else is more likely to fall into place. Incidentally, It occurs to this writer, that Magda Karon is the perfect individual for the role of Clayton Glass' Health and Safety Officer.
---
Other Employee interviews:
The Secret to Outstanding Customer Service
How To Provide the Best Customer Service