How to Provide the Best Customer Service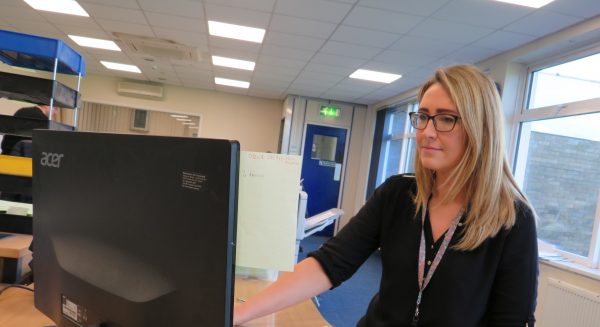 Sarah Butterfield is one of our Customer Service Representatives at Clayton Glass. Today, Sarah tells us all about: the reason she chose to pursue a career in customer service, how to provide the best customer service, as well as her dream holiday destinations and more…
A Drive for Customer Service
For many of us out there, it can be hard to know what we want to do with our careers. In present times, asking someone their career goals can be somewhat of a touchy subject. This is why, listening to Sarah talk about her drive and passion for providing the best customer service, is such a welcome breath of fresh air. "I've always enjoyed speaking to people." Sarah tells me in response to a question about her reasons for choosing her profession. "Yes, I achieved my NVQ in business administration. After that I knew I would thoroughly enjoy a career in customer service" she says. Sarah tells me that she has a love of communication. This, combined with a deep knowledge and understanding of the ins and outs of business administration in the glass industry, has elevated Sarah to her current position with Clayton Glass.
It is a sad truth, that many people are in jobs that they simply do not feel passionate towards. For some out there, getting out of bed in the morning to go to work is just that little bit more difficult. It is immediately obvious, when she begins discussing customer service in a bit more detail, that this simply does not apply to Sarah. "I get so much self-satisfaction if I achieve something a customer has asked of me." states Sarah, with a brief smile. "On the flip-side I'm very disappointed if it turns out that I can't help them".
---
Building Loyalty
According to Sarah the single most important quality a customer service representative can have is empathy. "Providing good customer service is about more than just being friendly and helpful." Says Sarah, in a sincere tone. "It's about understanding the strain that the customer is under. It's about sensing the urgency, sensing the stress". It is this 6th sense of empathising with each customer that, Sarah believes, keeps the customers coming back to Clayton Glass.
---
It's about understanding the strain that the customer is under

---
It is ingrained, deep within human nature, to avoid unnecessary changes in our lives. If a customer receives everything they need from a company, it holds true that the customer would never have any need to do business with anyone else. Sarah believes that the most important function of a customer service department is to, not only build relationships with its customers, but to build loyalty.
"It's simple really" Sarah begins, "loyalty takes a long time to build. But it can be done by really being on the same page as your customer. This includes understanding their business, and understanding their worries." Sarah pauses briefly to gather her thoughts. "But it's about a little bit more than that." she says. "That friendly phone call just to see how a particular project went, can make all the difference." There's a real, genuine feeling about the way Sarah speaks about this subject. You get the impression that this is a phone call she relishes making. Also, one she has plenty of experience with.
---
Clayton Glass
The conversation turns to Sarah's employer – Clayton Glass. "what do you enjoy about working with Clayton Glass?" I ask, intrigued. "I have two things!" Sarah beams, obviously prepared for this particular question. "firstly, the customers." she continues, "Clayton Glass is lucky enough to have a lovely bunch of customers. A bunch I have had the pleasure of getting to know very well over the years." Sarah then tells me that she can recognise a customers voice instantly. She says that, when a customer calls, from the word "hello", she can instantly decipher who she's speaking to. This is a level of company-customer relationship I had not expected. Sarah's smile doesn't fade in the entirety of the time she speaks about her customers.
---
Clayton Glass is lucky enough to have to have a lovely bunch of customers, who I have had the pleasure of getting to know very well over the years

---
"The second thing I love about working here is, what I like to call, my 'work family'." says Sarah, a tinge of emotion in her voice. "We see so much of each other. We're all there for each other, and we all get on so well – even outside of work we have a laugh!". Sarah then goes on to tell me about the various trips away some of the Clayton Glass staff have taken together. Often to do some hiking in the Lake District. "We're always going out for meals, for drinks, for people's birthdays." Sarah says, smiling. It is clear to see, being in and around the Clayton Glass staff, that the various friendships between those who work there are really quite genuine. This 'genuine-ness' is something that spills over the edges and seems to directly affect the customers of Clayton Glass.
---
The Clayton Difference
This brought us on to a topic that is forever in the background of these interviews – 'the Clayton difference'. "The Clayton difference is what makes us stand out from the rest." states Sarah simply. 'The Clayton difference' is a name given to the collection of qualities that separate Clayton Glass from their competitors in the glass industry. "At Clayton Glass it's about this constant need for self-improvement." Sarah tells me. "We are always aiming to provide the best customer service. Also, to provide the best products and investments. Over the last decade or so Clayton Glass have established themselves as one of the largest glass manufacturers in the UK. Sarah believes that this is largely down to this constant analysis of performance. This continuous strife for improvement. And consistently putting the customer above all else.
---
Spare Time
The conversation takes a light-hearted turn when I ask Sarah what she enjoys doing in her spare time. "In my spare time I enjoy keeping active." she tells me. "I really like running and walking." Sarah thinks for a minute, then smiles and says "my favourite kind of day out is going for a walk, and a picnic, with my family." Sarah seems to enjoy the social aspects of life, as much outside her job as she does within it. She tells me: "I also enjoy catching up with my friends over a coffee. We're always doing stuff like that." From meeting Sarah, it seems as though she is very well suited to her choice of career. Furthermore, it sounds like Clayton Glass' customer service department is very grateful to have her.
---
My favourite kind of day out, is going for a walk, and a picnic, with my family

---
Approaching the end of the interview, my final question to Sarah is: "If you could go on holiday anywhere in the world, where would you go?" To which Sarah responds: "within the UK, it would have to be Kielder. I love the place, love it, love it, love it." Sarah tells me that, if she won the lottery, her dream holiday abroad would be a multicentre-style holiday. During which, she would travel around North America. Visiting places including Las Vegas and San Francisco, eventually culminating in Mexico. "Is that cheating?" She asks, laughing. "To be honest though, if I had won the lottery, after I'd got back, I'd go and travel round the rest of the world." She says, in a jokey tone.
---
Post Interview Thoughts
The interview finishes there as I hit stop on my recording device. I thank Sarah for her time as she gets up and leaves. The overwhelming impression left on this interviewer is that I've rarely seen an individual so suited to her line of work. Clayton Glass is lucky to have Sarah Butterfield – Customer Service Extraordinaire.
---
More tips about how to provide the best customer service: Here
More Fascinating Employee Interviews:
The Secret to Outstanding Customer Service
Why is Health and Safety Important in the Workplace?