COVID-19 Update: Huthwaite and Blackburn Sites Open from Monday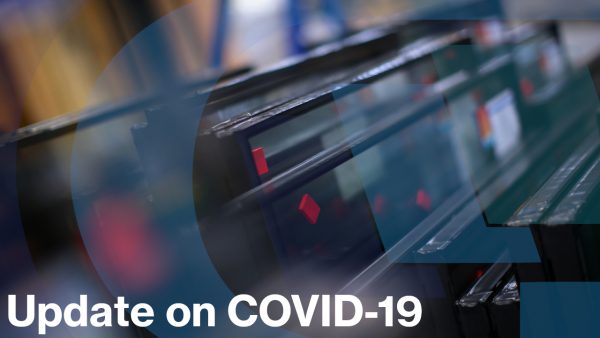 Huthwaite and Blackburn sites to open on Monday 18th May, as demand slowly increases.
Weekly COVID-19 update as of 15th May:
Dear Friends and Customers,
I'm delighted to advise that following a successful and safe first week of operations at our HQ North East site, the factories at Huthwaite and Blackburn will both be opening on Monday 18th May.
Although from a low point of just a thousand or so units per day, to coin a well-used phrase, we have seen our demand grow exponentially this week, from which it is plain to see our industry is coming alive again. We're responding to this literally daily, by bringing more staff back, more material, more sites open and more shifts online.
However, in these early days there may be some minor disruption, and as we have said previously lead times and delivery days may not return to normal for a while yet. Please bear with us at this time, and also bear in mind that your account will need to be up to date, and we'll need to ship any older product we have made for you, as we work to clear our warehouse spaces.
Delivery method may again differ slightly in the next month or so, and what's especially pleasing to see, from our perspective, is the abundance of new COVID-safe goods in/out procedures out there. It is reassuring that our industry professionals are all taking the appropriate measures required for the time being, in this new environment. Ours can be found here: https://claytonglass.co.uk/wp-content/uploads/2020/05/Covid-19-Induction-RA-SOP.pdf
This communication was established 7 weeks ago now, as the only real means of keeping our customers up to date with our plans throughout lockdown. As such I think a weekly update is now not so much needed, as we move towards a fully open position with all phones covered, and all factories manufacturing.
I'd like therefore to take this opportunity to wish you and your business all the best for a safe and successful future, as we all look to return to previous volumes as soon as we can.
I'd particularly like to thank all those who participated, even silently, in our industry COVID forums.
It was for me a hugely rewarding experience to see so many people openly sharing their positions, and demonstrating an amazing level of resilience in the fight to get our industry back on track.
Best wishes
Ryan
---