COVID-19 Update: Clayton Glass' Harelaw HQ Re-opening with Skeleton Staff on Monday 4th May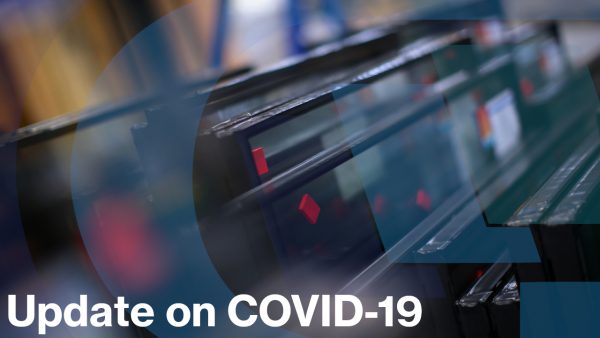 We are delighted to announce that, as of next week, Clayton Glass' Harelaw headquarters will be skeleton-staffed and fulfilling orders on behalf of all of our plants.
Update: 1st May 2020
Dear friends and customers,
5 weeks on from the day we reluctantly ceased operations, the picture, although improving, remains unclear. The latest briefing from government, albeit still vague timewise, did strongly allude to a recovery plan being outlined next week, and specifically highlighted that businesses not on the forced closure list, such as manufacturing and construction, could and should look at returning, as long as the correct measures are in place.
Coupled with this, through our industry wide Covid conversation, it is strongly apparent that many of our customers are themselves looking to return to work, and will require glass products over the coming weeks.
Read more here: https://glasstimes.co.uk/editors-comments/get-off-the-fence/
Therefore, over the coming weeks we ourselves will be safely and gradually bringing the business back to full trading.
As of next week, our Harelaw site and HQ will be skeleton-staffed, with others potentially working from home and available to take your calls. Whilst this will be a long way away from service as usual, we will aim to bring back staff onstream, in-line with demand and phone traffic.
Initially we'll be focused on a few areas as follows:
Delivering orders and planned deliveries that are made, but which you were unable to take off us in the run up to full lockdown.
Checking with you orders that are on our system but not made, are still required and if so when.
Helping you to make sure your account is in order so we are able to resume trading.
Processing and delivering new orders.
In the first instance, if you are able to email us the specific detail as to orders/jobs you require and when, we will come back to you as soon as we can with a firm delivery date. Please also provide details of your opening dates/times, availability and delivery protocols, and bear in mind initially our delivery method may change, such as where we make the product, the use of carriers, or a no-handball service. Certainly, normal lead times or delivery days will not apply in the short term, but we will endeavour to do whatever we can to help.
As demand increases, be that gradual or rapid, rest assured we will be gearing up accordingly to increase capacity and output to support our customer base, and meet whatever demand we forecast and see.
If you have orders to chase, place or expedite then please do so as soon as possible, we will be here to talk and help from May 4th and we look forward to hearing from you again. Likewise, although we do not profess to be experts, if you would like access to a number of safety documents, advice and further information we have collated on behalf of our industry please don't hesitate to get in touch.
Whilst the picture remains uncertain, we will, over the coming weeks, work hard to play our part in the supply chain as required, to rebuild our country's construction and home improvement industries, whilst all the time of course bearing safety in mind.
Finally, again, on behalf of Clayton Glass, I'd like to thank all those who have been tirelessly working throughout this period, to supply vital emergency and other services to us all.
You can contact us via the following numbers with any questions you may have:
Clayton Glass Harelaw (Main): 01207 288200
Ryan Green, Managing Director: 07766 697239
Stephen Faulkner, Operations Director: 07515 951284
Jason McCabe, Commercial Director: 07971 617527
Best wishes,
Ryan
---