COVID-19: The Measures in Place to Prevent the Spread of Coronavirus at Clayton Glass
This week we're chatting to Health & Safety Manager, John Costello, about the systems, measures and mindsets put in place across the Clayton factory floors and offices. Preventing the spread of Coronavirus in a manufacturing business such as ours…
In this piece, Clayton Glass' no-nonsense, military-trained Health & Safety Manager, John Costello, talks us through preventing COVID-19 in a manufacturing business such as Clayton Glass. As well as discussing the list of anti-COVID measures, and their implementation, at some of the largest manufacturing sites in the UK. The importance of which cannot be stated enough.
Preventing COVID-19 in a Manufacturing Business: Factory Floor Measures
John explains that he, and everyone at Clayton Glass, are strictly abiding by the government document: "Working safely during COVID-19 – factories, plants & warehouses". When it comes to implementing anti-COVID measures on the Clayton Glass factory floors.
Here, John lists the measures, coupled with the reasons why they are in place. For the complete list of measures Clayton Glass are following, read the government document for yourself, in full, HERE
One-way system – "This is self-explanatory, but the one-way system is in place to minimise the contact between staff. If they do not have to walk past each other, they are limiting the face-to-face contact they have."
Social distancing – "Staff are to remain at least 1 metre away from each other at all times. This is non-negotiable."
Additional handwashing on factory floor – "To increase the frequency that staff are able to wash their hands, by always having a handwashing station nearby. Also lessons the use of staff bathrooms."
Hand sanitising stations – "Where it's not possible to have handwashing, we have hand sanitising stations. These contain alcohol solution. Staff can also request to have their own personal hand sanitiser. That's something we can provide."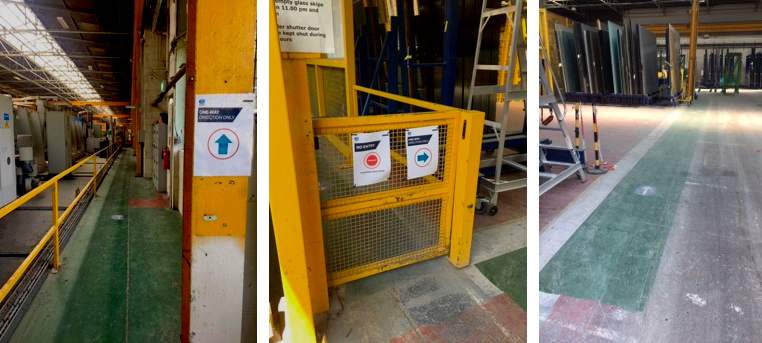 Fixed teams – "We put the same teams on the same shifts so that they are the ones working together all the time. This is so that if someone did test positive, we would know who they'd come into contact with."
Face coverings (by request) – "If any of our staff would feel safer with a face covering, they are free to wear them. These are also something we can provide if necessary. In our Blackburn facility, an area where there has been a spike in cases, we are using face coverings. We have many of these ordered in case things change at our other sites too."
Staggered shift timings – "We have the lads who usually finish at 2pm, instead finishing at 1:45pm. This way they do not come into contact with those that start work at 2pm. Each station is cleaned between these shifts also."
Cleaning fluid & hand sanitisation in all communal areas – "For instance next to the microwaves and vending machines in the break rooms. So that these can be wiped down, and hands can be sanitised after touching these appliances."
Risk assessment forms – "We now also have many different risk assessments. These cover everything from arriving to work, to using the welfare facilities. Including what is expected from any visitors to our sites."
Regular shop floor walkarounds – "I'm now doing three walkarounds per shift. This is: to check everyone is adhering to the measures, to find new ways we can improve internally, and to answer any questions anyone may have about working safely."
Mandatory health & safety training – "Every morning at 9am, I am delivering mandatory health & safety training for up to 4 employees at a time from across the shift, this includes all areas of health & safety, but now also includes full details of working safely during COVID-19."
Minimising face-to-face working – "The guidelines for social distancing say 1m+ with risk mitigation. This can include employees working back-to-back or side-to-side. Whilst limiting the amount of time working face-to-face."
---
Preventing COVID-19 in a Manufacturing Business: Office Measures
John goes on to explain that, while the greatest challenges in preventing COVID-19 in a manufacturing business are intwined with the factory floors, there are plenty of challenges and measures in place throughout the Clayton offices.
"When it comes to the offices, much like the factory floors, we are strictly abiding by the government documentation." Says John.
The document John is referring to is titled: "Working safely during COVID-19: offices and contact centres". John explains the office measures below. To see the full list of measures imposed throughout the offices at Clayton, you can read that document HERE
Sneeze screens – "These are glass dividers that separate work stations in the offices. As their name suggests, they prevent the transmission of germs between individuals."
Social Distancing – "All office staff are to remain at least 1 metre apart at all times."
Surface Cleaner – "A 1-in-10 bleach dilute, used for wiping down all surfaces after use."
Hand & surface cleansing wipes – "These are for wiping down computer mice, keyboards, monitors, phones and stationery to keep them all disinfected."
Not sharing stationery – "Self-explanatory, staff cannot share stationary. They must only use their own to prevent the potential transfer of the virus."

Not sharing phones – "Again self-explanatory, staff are not allowed to share phones. Should they receive a call, asking for a specific member of staff, they must be patched through to that person's phone."
Use of Zoom/Microsoft Teams, for meetings where possible – "We have been utilising a lot of digital services in order to conduct meetings. Such as what we're doing with Clayton Clinics. Clayton Clinics is a service where customers can get in touch for a personalised meeting, with a specific staff member, over Microsoft Teams."
Face-to-face meetings minimised – "Almost to the point of complete eradication. But we appreciate face-to-face meetings are occasionally necessary. In this instance, social distancing would apply"
Visitor risk assessment form – "Any visitors coming for meetings must sign a visitor risk assessment form. This is to show that they comply with all measures we have in place here. If not, they are not allowed on the premises."
Customer Service backshifts – "Where Customer Service staff used to work normal office hours, we now have them working staggered shift patterns so as to minimise the number of people in the office at any one time."
Working from home – "Some staff were working form home where possible. All are now back in work, but we would be willing to support working from home again if necessary."
---
What if Someone was Displaying Symptoms of COVID-19?
Currently, the recognised symptoms specific to COVID-19 are a persistent, dry, continuous cough, a fever/high temperature, and a loss of sense of taste and smell (anosmia). Other symptoms may include: runny nose, sore throat, breathing difficulties, rash, sore head, body aches and more.
Many cases are mild, some completely asymptomatic (showing no symptoms), but some can be a lot more serious, especially to those with underlying medical conditions.
"Firstly, by law, we have to have a test and trace service." Says John. "We do this by keeping a temporary record of staff shift patterns for 21 days following any given shift. This allows us to work with the NHS track and trace system, our fob system helps us do this."
John explains that this is in place for the reason that if someone were to test positive and was self-isolating, then it would be immediately known who they'd come into contact with, when, where and for how long.
"We would then inform these staff members. Tell them to go home and apply for a test. They can come back after they test negative, or after a week of no symptoms." Says John.
John goes on to explain that if someone is presenting with symptoms, or thinks they are, they will have their temperature taken with an InfraRed Thermometer (temperature gun).
"If they have a temperature above 37.5 degrees Celsius, then they have to go home." Says John.
"Another thing we have is called a SPOC" says John, "or a Single Person Of Contact."
"Within the Governments guidance for working safely during COVID-19 in factories, plants and warehouses, chapter 7.1.2 informs you that you must have a SPOC in place. Their responsibility is to be the contact, from the company to their local Public Health Teams."
"The SPOC will get in touch with our local Public Health England Team. We will follow their guidelines on what is best to do for a given situation." John explains.
---
The Individuals Behind the Measures
Something that's been said throughout this crisis is that, while there are government laws and guidelines in place for staying safe during the COVID-19 pandemic, the ultimate responsibility to be safe, to work safe, falls on individuals. On everyone.
"What we've seen is people wanting to act safely" says John.
"We've seen people applying a common-sense-first approach, when it comes to all the measures that we've put in place. Everyone here is acting in a way that is understanding of the risks of acting unsafely. Understanding of the fact that by acting unsafely, and not following the measures, that you are not only putting yourself at risk, but other people and, by extension, loved ones."
---
A Final Word
Almost 1 in 5 working adults in the UK ply their trade in the manufacturing industry. Making it the 2nd most worked-in industry in this country. Therefore, preventing COVID-19 in manufacturing businesses is paramount to the safety of everyone, not just those employed by them.
We hope that reading this piece has highlighted the lengths we are going to. Both: to keep our staff safe, and to operate and trade safely as a business. This, we are sure, many other companies are doing too.
By working together, and following government advice on working safely during COVID-19, hopefully someday soon we will see this disease eradicated from our lives. Perhaps life can then return to something approaching normal.
We hope you are all staying safe out there.
---
For the latest government advice, click HERE
For more advice on working safely during COVID-19, click HERE
Insightful tips on avoiding the disease, click HERE
For tips on looking after your mental health during this time, click HERE
---
In Other News…
---