Clayton Glass Plans During Coronavirus Outbreak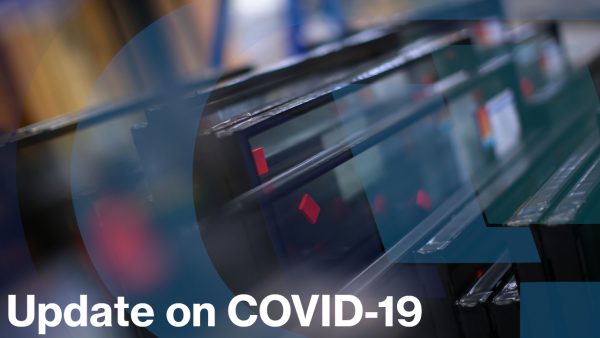 In what are uncertain times for everyone, following the worldwide COVID-19 pandemic, we would like to outline our plans and strategies for coping with this unprecedented situation.
Firstly, we would like to reassure our customers that we are open for business. We have a workforce of nearly 400 and whilst many, or perhaps even most of them, will be affected, the hopefully phased nature of this situation means that, throughout the duration, we'll retain enough staff to manage what we expect to be a depleted demand, as our customers and suppliers experience the same issues. However, we are still as committed as ever to delivering you your glass orders on time, and in full.
Our focus is to continue on this path for as long as it is safe to do so. We are monitoring the situation daily, and have been for a number of weeks now. We have measures in place to protect the well-being of our staff and their families, including full support of working from home, if/when the situation calls for it.
However, for now we remain in the office. We're all committed to work through this, and retain supply whilst complying with all the advice to best look after our staff. We feel we have sufficient scale to do this.
We also have measures in place to protect the business. One strategy we have primed and ready to go is to move manufacturing around our facilities. Should one area become more severely affected, we comfortably have the capacity to be able to move it to another area – this will minimise impact on orders.
We are closely following the guidelines set out by the government. We will continue to adapt our strategy as these evolve, and of course we'll keep you posted as these changes occur.
We also realise the potential negative effect this disease is having on everyone's spirits. Therefore, we will continue to post all of our usual bits and pieces on social media and the website – in a bid to do our bit to distract you from it all.
We appreciate your support and understanding in this difficult time. Stay safe, stay healthy, stay positive, follow the guidelines, and we will all get through this stronger.
Regards,
Your friends at Clayton Glass
---
Important News
---