Clayton Glass Nominated for 'IGU Manufacturer of the Year Award' in the National Fenestration Awards 2021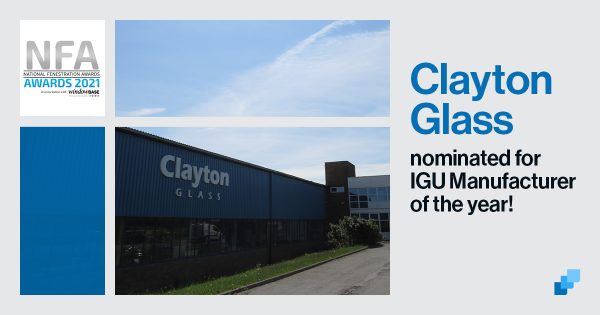 Last week, the nominees for the National Fenestration Awards 2021 were announced on Twitter, and (excitingly) Clayton Glass have been nominated in the 'IGU Manufacturer' category.
The National Fenestration Awards (NFAs) are the glass industry's fastest-growing, most distinguished, independent awards event. The yearly competition is now in its 9th iteration, starting back in 2013.
This year has seen a record-breaking 2000+ nominations across 25 different fenestration categories, and promises to be the biggest, most engaging NFAs to date.
It is the 7th consecutive year Clayton Glass Limited have been nominated for the prestigious award, with us having won the award on four of those occasions: 2015, 2016, 2019 & 2020.
Despite our success over recent years, we haven't forgotten about the people who have championed Clayton Glass through votes in competitions such as this. So, to all you guys out there who have supported us over these last few years, through covid and the rest, a sincere thank you.
We don't do what we do for any kind of award, but we'd be lying if we said we didn't want to win! And as always, we'd be greatly humbled and appreciative of your support this year.
So, if you'd like to vote for Clayton Glass in the National Fenestration Awards 2021, you can do that via the button below:
To vote, scroll to the bottom of the page and fill in the form, if you'd like to vote for Clayton, simply type "Clayton Glass" in the "Nominee" box, and make sure under "Category" you have "IGU Manufacturer" selected.
---
Usually here we'd put a section titled "reasons to vote for Clayton Glass" and we'd talk all about our products, services, statistics, manufacturing space and things of that nature.
But in reality, 2021 probably isn't a year where any of us can be accurately measured by these kinds of things. COVID-19 isolations and glass shortages are just two things we've all been greatly affected by over the last 12 months.
For us, and many others, 2021 has been a year about grit. Speaking personally, it has probably been the hardest year of all of our individual careers.
What we can say though is that, similar to last year, we've done everything in our power to help in any way we can.
We're optimistic that next year will be easier for everyone. Thanks for sticking with us.
---
In Other News…
---